How to Buy Wedding Flowers Online
Planning a wedding involves numerous details, and choosing the perfect flowers is undoubtedly one of the most crucial decisions to make.
Thankfully, with the convenience of online shopping, you can now explore a vast selection of wedding flowers without leaving the comfort of your home.
In this guide, we will explore the process of buying wedding flowers online, ensuring that you have everything you need to create a breathtaking floral arrangement for your special day.
The Benefits of Buying Wedding Flowers Online
When it comes to selecting wedding flowers, opting for online shopping offers several advantages.
Firstly, you gain access to an extensive range of floral options that may not be available at local florists.
Websites like Italian Flora provide a wide selection of premium flowers such as Red Roses, Lilies, Gerberas and Orchids that can be tailored to suit your unique preferences.
Secondly, buying wedding flowers online allows you to conveniently compare prices, ensuring that you stay within your budget.
Italian Flora offers competitive pricing options, with various price ranges from below 50 euros to above 100 euros, making it easier for you to find the perfect flowers that fit both your style and your wallet.
Furthermore, purchasing wedding flowers online provides the advantage of time efficiency.
You can browse through the website's offerings at any time, without the need to schedule appointments or travel from one shop to another.
This allows you to dedicate more time to other essential wedding planning tasks while still making an informed decision about your floral arrangements.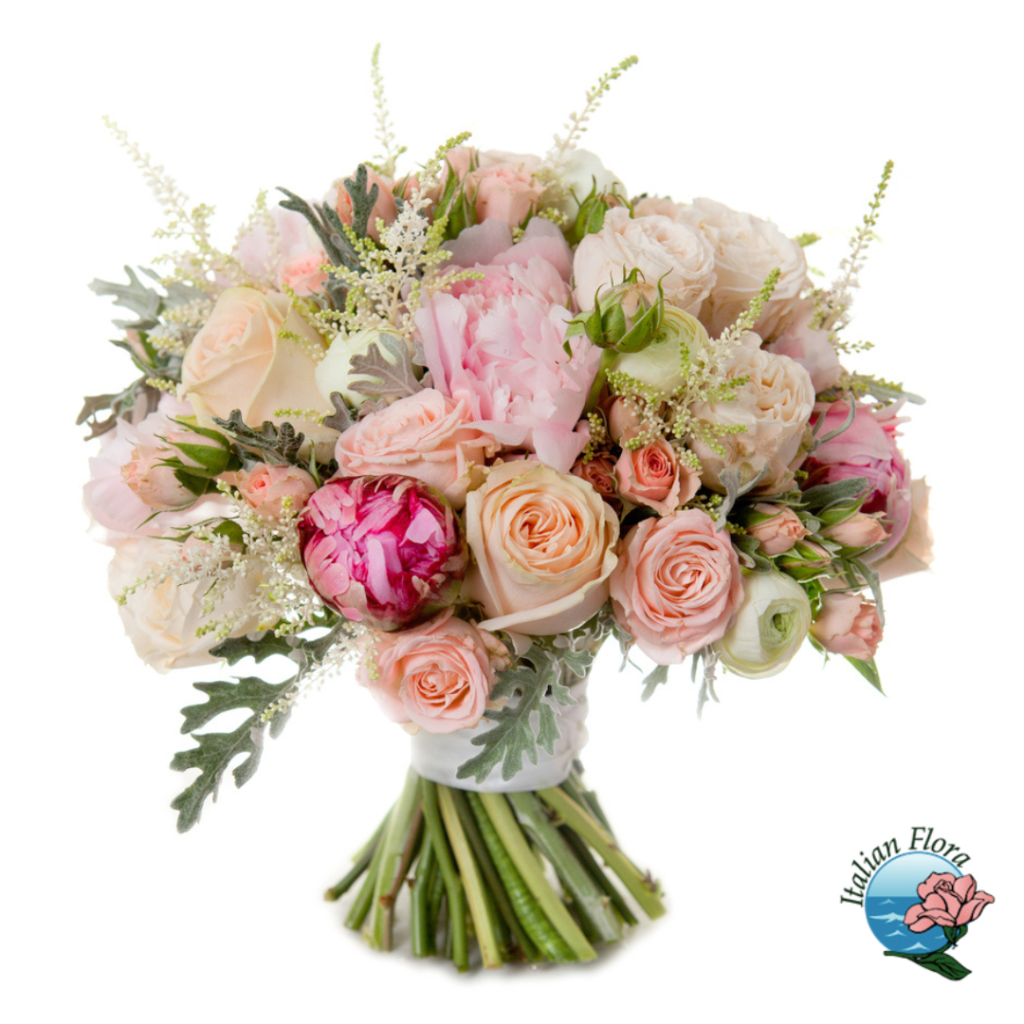 Guide to Buying Wedding Flowers Online
1.  Research and Inspiration: Begin your online flower shopping journey by conducting thorough research.
Browse through Italian Flora's wedding flower collection and gather inspiration for your ideal arrangement.
Consider the color schemes, flower varieties, and bouquets or centerpieces that align with your wedding theme and personal style.
2.  Consultation: Contact the online florist's customer service team for expert advice and consultation.
Italian Flora's team of professionals can guide you in selecting the perfect flowers for your wedding, offering suggestions based on seasonality, availability, and your desired aesthetic.
3.  Customize Your Order: Personalize your wedding flowers by communicating your specific requirements to the online florist.
Italian Flora provides customization options, allowing you to add special touches like ribbons, decorative accents, or even specific flower combinations such as a Bouquet of Roses and Orchids or Pink Lilies and White Roses.
4.  Secure Delivery: Opt for a trusted online florist like Italian Flora that provides reliable and secure delivery services.
Ensure you provide accurate delivery details, such as the wedding venue address and desired delivery date, to guarantee that your flowers arrive fresh and on time for your big day.
Buying wedding flowers online provides a convenient and efficient way to find the perfect floral arrangements for your special day.
By choosing a reputable online florist like Italian Flora, you gain access to a wide selection of high-quality flowers, easy customization options and reliable delivery services.
So, whether you're dreaming of a romantic rose bouquet or a stunning mix of vibrant orchids, take advantage of the convenience and expertise available when purchasing your wedding flowers online. Do you want to send flowers worldwide? Look no further than Italian Flora, the premier online flower delivery service for every occasion!
Elevate Your Special Occasions with an Elegant White Spatiphyllum Plant – Perfect for Weddings and More! Looking for an elegant