When should you have sympathy flowers  delivered?
Losing a loved one is an extremely difficult experience, and during such times, expressing condolences and offering support becomes paramount.
One thoughtful gesture that has long been a tradition is sending sympathy flowers.
These flowers not only symbolize love and care but also offer solace and comfort to those who are grieving.
In this article, we will explore when it is appropriate to have sympathy flowers delivered and the significance behind this heartfelt gesture.

The Importance of Timely Delivery for Sympathy Flowers
Timing plays a crucial role when it comes to sympathy flower delivery.
Grieving families greatly appreciate the support and love shown during their time of loss, and having the flowers delivered promptly shows your immediate support and care.
Online flower delivery services have made it easier than ever to send sympathy flowers without any geographical constraints.
When should you have sympathy flowers  delivered?
With the availability of worldwide flower delivery and international flower delivery services, you can ensure that your thoughtful gesture reaches the recipient, no matter where they are.
Additionally, some services even offer same-day flower delivery, which allows you to express your condolences while the emotions are still raw and overwhelming.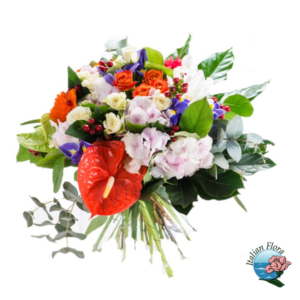 Selecting the Right Sympathy Flowers for Delivery
When choosing sympathy flowers, it's essential to consider the recipient's preferences, cultural traditions, and the overall meaning behind different flower types.
Traditional options like elegant white lilies, serene white roses, or calming orchids are often associated with sympathy.
These flowers convey purity, peace, and comfort during times of mourning.
Offering a gentle reminder that life continues, vibrant flowers like roses or colorful mixed bouquets can also be chosen.
At Italian Flora, a renowned online flower delivery service, you can find a wide range of sympathy flower arrangements that reflect both traditional and contemporary choices.
Browsing through their selection ensures you find the perfect arrangement to express your heartfelt condolences.
When should you have sympathy flowers  delivered?
It's important to choose the right time to deliver sympathy flowers.
Generally, they are sent before funeral services as they represent one's love and condolences towards the deceased.
Some people might choose to send them after the funeral as well, when the grieving family needs comfort the most.
Regardless of when they are delivered, the gesture shows that the sender cares and is there to offer their support.
At Italian Flora, their sympathy flower delivery service is prompt and respectful of funeral home or family delivery timings, ensuring that your flowers reach the intended recipients at a suitable time.

Personalizing Your Sympathy Flower Delivery
Sympathy flowers are a personalized gesture that can reflect your relationship with the deceased and their family.
You can personalize the arrangement by selecting their favorite flowers, colors, or even incorporating memorable items to the arrangement, like a family photo.
At Italian Flora, an extensive selection of sympathy flower arrangements is offered to commemorate and celebrate the life of your loved one.
Personalizing the arrangement in this way shows that you understand and celebrate the person's life, rather than focusing on their loss.
Sending sympathy flowers is a compassionate gesture that shows your love, support, and empathy towards those who are grieving.
With the convenience of online flower delivery services, you can make this gesture regardless of the distance between you and the recipient.
Whether it's worldwide flower delivery, international flower delivery, or even same-day flower delivery, the timely arrival of your chosen flowers will provide solace and comfort during difficult times.
Remember, selecting the right sympathy flowers can make a great difference, so choose with care and consideration.
Express Your Deepest Condolences with our Funeral Bouquet, Comprising White Roses and Purple Flowers – A Graceful Tribute to Honor