What is the best flower to give a father?
Father's Day is a special occasion to express our gratitude and love for our dads.
While flowers may not be the first gift that comes to mind, they can be a heartfelt and meaningful gesture to show appreciation. In this article, we will explore the best flowers to give a father and how online flower delivery services like Italian Flora can help you send beautiful blooms to your dad no matter where he is in the world.
Orchids – A Symbol of Elegance and Strength
Orchids are an excellent choice when it comes to honoring your father on his special day.
These exquisite flowers represent strength, elegance, and respect, qualities that we often associate with fathers.
The multi-colored roses and orchids bouquet offered by Italian Flora is a perfect option.
With its vibrant mix of colors, this bouquet symbolizes the diversity of emotions we feel towards our fathers.
Whether you choose a bouquet of pink roses and orchids or opt for a pink orchid plant, your father will appreciate the thoughtfulness and beauty of these stunning blooms.
For online flower delivery, Italian Flora offers worldwide flower delivery services, ensuring that no matter where your father is, he can receive a meaningful gift on Father's Day.
With their international flower delivery options, you can surprise your dad even if he is miles away.
Furthermore, Italian Flora provides same day flower delivery, ensuring that your gift arrives promptly and fresh.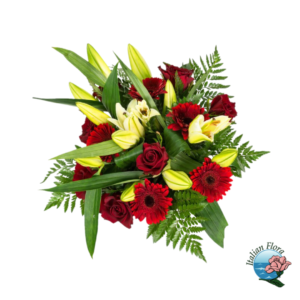 Roses – A Classic Gesture of Love and Gratitude
Roses have long been associated with love and gratitude, making them an ideal choice to show your thanks to your father.
The red and white roses bouquet from Italian Flora offers a classic yet elegant arrangement that conveys affection and appreciation.
The combination of red roses and white lilies is a beautiful representation of the bond between father and child.
Alternatively, you can opt for a bouquet of red and pink roses, which signifies admiration and gratitude.
Roses are timeless and versatile flowers that can suit any occasion. By gifting your father with a bouquet of roses, you are not only acknowledging his love and support but also recognizing his role as a father figure in your life. The vibrant colors and sweet fragrance of the roses will brighten his day and serve as a constant reminder of your gratitude.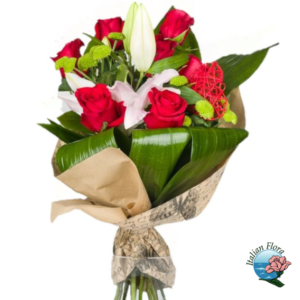 Italian Flora's website provides an easy-to-use online platform for browsing and selecting the perfect flower arrangement for your father.
By simply clicking on the product links in this article, you will be directed to the specific webpage for each product, where you can find more information and make a purchase.
Their user-friendly interface ensures a seamless online shopping experience, making it convenient for you to send your chosen bouquet to your father no matter the distance.
This Father's Day, consider expressing your love and appreciation for your dad with the gift of flowers. Orchids and roses are timeless choices that will convey your sentiments beautifully.
With Italian Flora's online flower delivery services, including worldwide and same day flower delivery, you can surprise your father, no matter where he is.
Take the opportunity to browse their collection and find the perfect flower arrangement to honor your father on this special occasion.
Elevate Your Special Occasions with an Elegant White Spatiphyllum Plant – Perfect for Weddings and More! Looking for an elegant