What plants represent grandparents?
As we get older, we become more appreciative of the simple joys in life.
Spending quality time with family, enjoying good food and drink, and appreciating nature are some of the things that become more meaningful with age.
Grandparents especially seem to embody the wisdom and gentleness of the natural world.
So, what better way to honor them than with a special plant gifted by ItalianFlora, your trusted online florist for same-day, worldwide flower delivery?

Plants that symbolize grandparents' love and heritage
Grandparents are often the source of our fondest memories and cherished traditions.
They pass on a legacy of love and wisdom that lasts a lifetime.
Here are some plants that represent these values and make great gifts for grandparents:
Rose: A classic symbol of love, beauty, and elegance.
Roses come in various colors and represent different emotions.
Red roses convey passionate love, while pink roses express gratitude and appreciation.
White roses signify purity and innocence, and yellow roses imply friendship and joy.
ItalianFlora offers a wide range of rose bouquets, such as the elegant "Red roses and white lilies," the cheerful "Red and pink bouquet" or the exquisite "Bouquet of roses and orchids."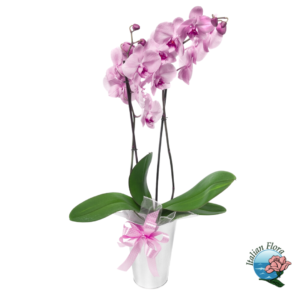 Orchid: A delicate and exotic flower that symbolizes love, beauty, and refinement.
Orchids come in a variety of colors and shapes, each with their own meaning.
In general, orchids are associated with luxury, vitality, and feminine charm.
Gift your grandparents the lovely "Pink orchid plant" to make their home brighter and more elegant.
Lily: A majestic flower that conveys purity, life, and spirituality.
Lilies come in various colors, each symbolizing different emotions and values.
White lilies represent innocence and peace, while pink or orange lilies denote happiness and gratitude.
Italian Flora has several exquisite lily bouquets, such as the enchanting "Bouquet of pink lilies and white roses."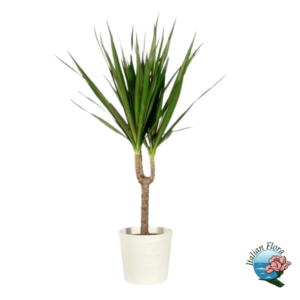 The best plants for easy care and longevity
If you're looking for plants that are both low-maintenance and long-lasting, the green plants offered by ItalianFlora's online catalog are a perfect choice for your beloved grandparents.
These plants not only bring a touch of nature into their homes but also require minimal care.
Here are a few notable options:
Basket of Christmas plants: This beautiful arrangement features a variety of green and blooming plants, making it a perfect gift for the holiday season.
The combination of vibrant colors and lush foliage adds a festive touch to any room.
You can choose from different sizes ranging from €59 to €129, ensuring the perfect fit for your grandparents' space and budget.
Green plant: This classic and versatile plant is a staple in any home decor.
Its lush green leaves bring a sense of tranquility and freshness to any environment.
ItalianFlora offers a wide selection of green plants, allowing you to find the ideal one for your grandparents.
Whether it's a vibrant fern or a graceful palm, these plants are sure to enhance their living space.
Basket of green plants: Comprising a selection of green plants, this elegant basket arrangement adds a touch of nature to your grandparents' home.
The combination of different textures and shades of green creates a visually pleasing composition.
Gift them this charming arrangement to brighten up their living space and bring a sense of serenity.
Composition of green plants: This carefully curated composition features a combination of green plants, creating a harmonious and visually striking display.
The different shapes and sizes of the plants add depth and dimension to any room.
Surprise your grandparents with this unique and artistic arrangement to show your love and appreciation.
In conclusion, plants can be a wonderful and meaningful gift for your grandparents, especially on special occasions such as birthdays, anniversaries, or holidays.
They can represent the beauty, love, and wisdom that grandparents embody and convey your gratitude and affection.
Italian Flora offers a wide range of plants and flowers for online,international flower delivery that can suit your taste and budget.
Check out the recommended products linked in this article and surprise your beloved elders with a touch of nature and elegance.
Elevate Your Special Occasions with an Elegant White Spatiphyllum Plant – Perfect for Weddings and More! Looking for an elegant